Home » Eating & Drinking, In Person
Sommelier-led Wine + Cheese Tasting SF)
Submitted by the Event Organizer
Emeecee
Join us as we explore the history, winemaking techniques, and flavor profiles that distinguish these two categories of wine!
Old World wines are from traditional wine regions in Europe, such as France, Italy, and Spain. These wines are often known for their elegance, complexity, and earthy flavors, and are produced using centuries-old techniques.
On the other hand, New World wines come from emerging wine regions like California, Australia, and South Africa. These wines are often fruitier, bolder, and more approachable, and are made using modern winemaking techniques.
During this unique experience, we'll taste a variety of Old World and New World wines side-by-side and compare their aromas, flavors, and textures. Our expert sommelier will guide you through the tasting and share insights about each wine's origin, production, and style.
Whether you're a wine enthusiast or just starting to explore the world of wine, this class is a fantastic opportunity to expand your palate and deepen your understanding of wine. Don't miss out on this exciting and educational experience!
The secret SF location will be shared with attendees 3 days before the event.
** Add the optional cheese pairing to elevate your wine tasting experience **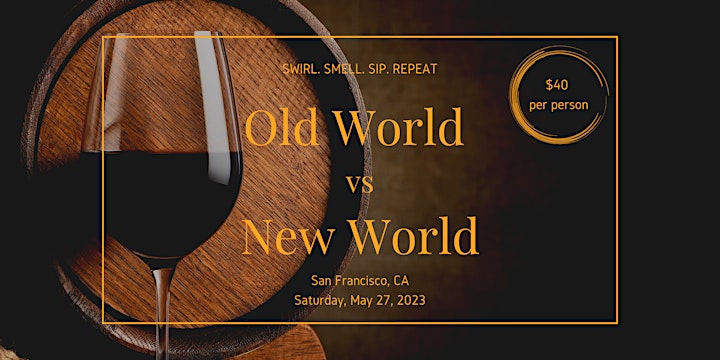 Disclaimer: Please double check event information with the event organizer as events can be canceled, details can change after they are added to our calendar, and errors do occur.
Cost: $40*
*Early bird tickets available before May 16
Categories:
Eating & Drinking
,
In Person
Venue: Private residence near Golden Gate Park
Address: Private residence near Golden Gate Park